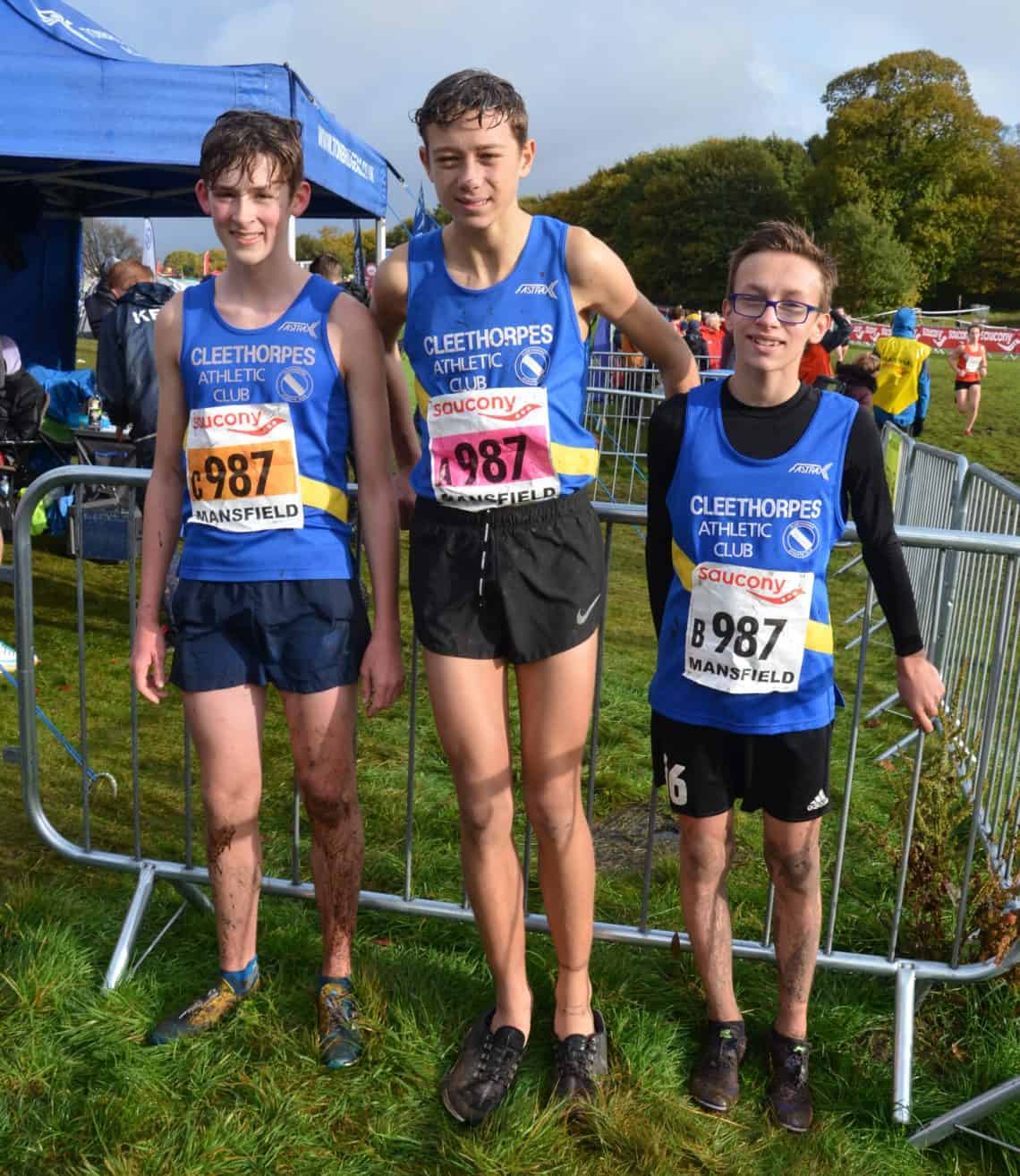 A very wet day was ahead of our 39 athletes who travelled to Berry Hill Park, Mansfield to compete for our second year at the National Cross Country Relay Championships. The course was set out in a mixture of parkland, woods with a few tricky hills and lots of extremely boggy patches which made it difficult conditions to run in but gave some great viewing points for the spectators. With 1281 teams at this years event it sure was going to be a busy day of competition.
First up was our U17 Women competing against 49 other teams over the 2.5K course. We had two teams in this race. Our "A" team made up of Robyn Greenway on 1st leg(9.34) setting them off to a great start, passing to Grace Sullivan in 18th position,  Grace  (11.00) passed to Hannah Reid ( 10.01) who brought our team home to a very respectable 20th Position.  Our "B" team, sadly one woman down was made up by  Louisa Howden (10.26)  and Hannah Lonsdale (10.45) who both put in superb individual performances.
Next up was our U13 Boys and Girls who ran a 2k course. The boys went first, our "A" team opened with George Wilson ( 7.00)  running a very impressive leg,  passed to Jack Wright in 4th place, Jack Then ran a superb leg (8.42) handing over to Alfie Burrell (9.03) in 31st position where he brought the team home to 49th place from 79 complete teams. Our "B" team saw good performances from all three lads,  Harrison Young ( 10.04)  set them off and  passed to Oliver Parker ( 11.53) with Ben Stiles on last leg ( 9.48).
We had 3 teams out in the U13 Girls Race. My hopes were high for our Our "A" team after their impressive 5th position at The Northern relays a couple of weeks ago. Chloe Phillips (7.51) again on first leg ran a fantastic race to pass to Alice Fearn ( 8.34) in 8th place, battling hard to maintain this position Alice passed to Tilly Carrotte ( 8.18) in 14th. This little pocket rocket showed great determination again and fought all the way till the line to bring our team home to a very impressive 13th place from 84teams, an incredible achievement by this young team.  Our "B" team made up with Tabby Justice ( 9.21) starting the race in a great time and passing to Annabelle Peart (9.47) and  Ruby Clarke ( 10.01)  both new to the relay scene running fine races to bring the team home to 74th place. Our "C" team, all only ever competed once before on this scale and doubt very much in these conditions all ran very well. Lilly Morgan on 1st leg ( 10.35) Lilly Scrimshaw 2nd leg ( 11.04) and bringing the girls home in 82nd place Sally Freist ( 10.40)
Now to a 3k course where two U17 men's teams battled hard for their positions in the 82 team field of athletes. Our "A" team was  set off to a good  Start by Caleb Stephenson (10.26)passing to Joel Cottingham in 69th place, Joel then ran another good  leg to bring the team through into 52nd place, and on last leg was Matthew Spendlove ( 10.20)  running a fine leg  to bring the team home in a very respectable 37th place. Not forgetting Our "B" team George Gale ( 10.48) who ran a great leg to pass to William Parker ( 14.23) with Dominic Cartwright ( 13.25) who came out of retirement for me brought the lads home.
Our U15 Girls were up next on the 2k course. We  had two teams competing in the 98 strong field. Our "A" team started with another incredible performance by Ella Greenway  ( 7.24) who passed in 3rd place to Charlotte Davies ( 9.18) who fought hard through the mud to pass to Katelyn Howden ( 8.35) who ran well to maintain Charlotte's  position bringing the girls home in a very respectable 28th place. Our "B" team all gave gutsy performances, this team was made up with Claudia Smith ( 10.30) Caitlin Bryant ( 10.19) and last leg Beccy Girdlestone ( 11.23)
Lastly, we had two teams in the U15 boys 2k race. Like last year, this race saw a real tussle for its 86 places at the start.  Our "A" team led by Charlie Burrell  (7.34) had a few knocks and pushes in the first 100m but brought the team in 66th place passing to Louie Knudsen ( 8.18) who ran another good race to pass to Joe Carrotte ( 7.55) in 60th place. Joe, despite carrying a slight injury battled through  the tough conditions to bring the team home in 45th place from 86 teams. Our "B" team started with Mert Ozgudger ( 8.20) , who as always delivers a great  finish with a wonderful look of determination on his face, passed to Ben Edwards ( 8.47) who worked hard throughout to move us up the positions and pass to Ravi Pathak who brought the team home to finish our day of competing.
A special mention again must go to 3 fantastic  Individual performances by George Wilson U13B who ran the 4th fastest leg of the day from 263 athletes, a incredible performance by this young man especially as he's another year left in this age group. Chloe Phillips U13G who was 11th fastest girl on the day from 286 athletes, another fantastic performance by her, and Ella Greenway U15G who came a incredible 3rd fastest from 318 athletes.
A very enjoyable, but very wet day was had by all, with some great running and some excellent results. A big Thank you to all the parents who helped me on the day, from getting the athletes there, putting up the Gazebo, taking the team photos and helping me with the management of the teams. Well done to all the athletes, you did your club and coaches proud once again!!
Thanks again must go my wonderful team of "Mentors" ( Robyn Greenway, Grace Sullivan, Louisa Howden, Hannah Reid, Katelyn Howden, Ella Greenway & Charlotte Davies) who were carefully selected to help warm up, guide and support the younger members of the teams. And thanks to The English Cross Country Association and Mansfield Harriers for hosting another memorable day.
Jo Evans
Many Thanks to Steve Carrotte & Graham Stephenson for the wonderful photos of the day
https://www.flickr.com/photos/lincsmotorsport/albums/72157711612335992
https://www.flickr.com/photos/156893523@N04/albums/72157711613858021/page2
Results from the day
https://www.englishcrosscountry.co.uk/nationals/2019-xc-relays-results-all-age-groups/