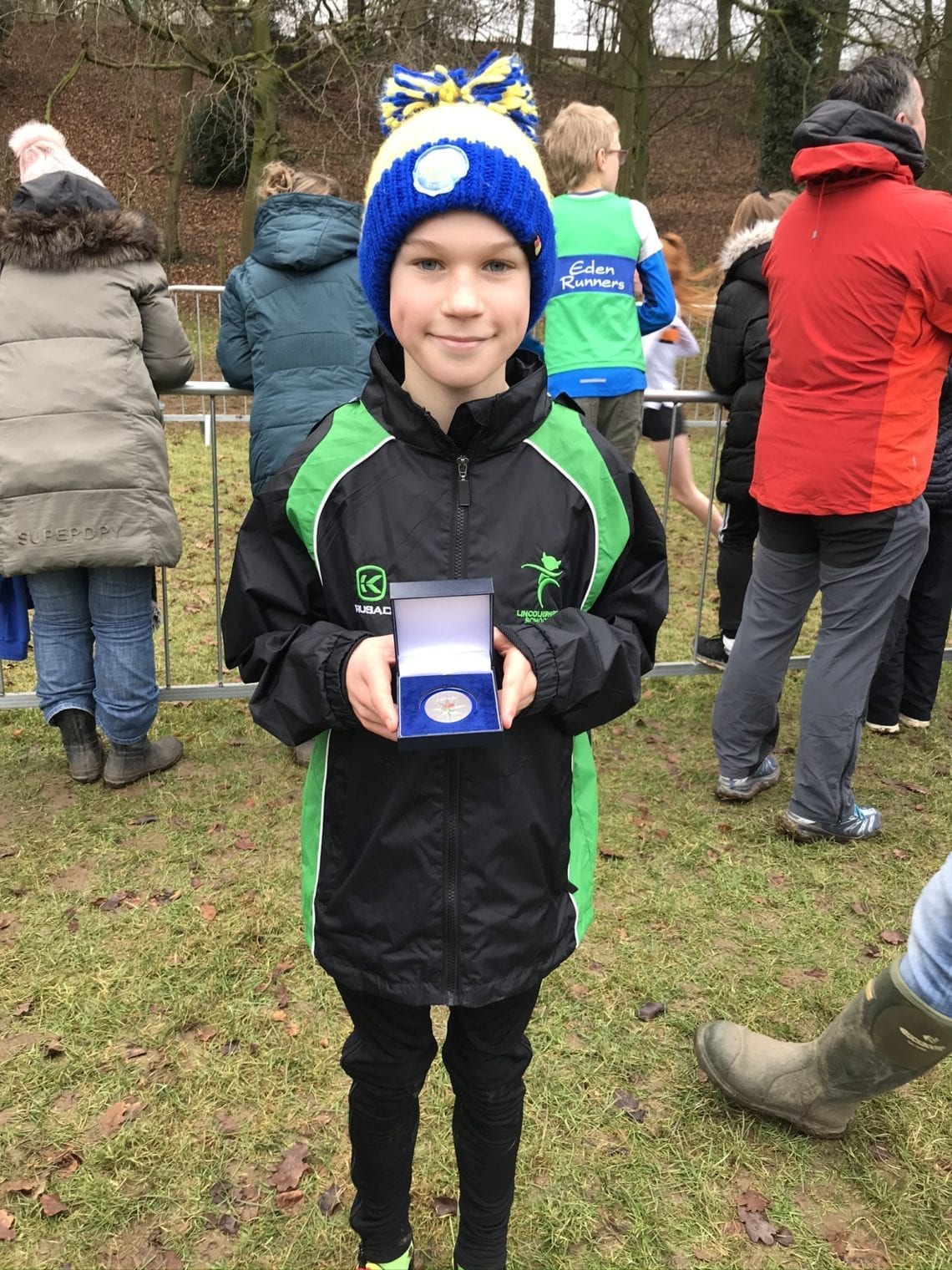 Camp Hill Estate, near Bedale in the Heart of North Yorkshire was this years host venue. The Relatively flat course in comparison to others made for fast races around the grounds of the estate.
The weather was kind and fairly mild initially for the 26 youngsters who had travelled to compete, with conditions under foot relatively kind too. The course for the U13/U15 races lapped round the same field which made for great spectating. Whilst the U17 course took them further into the woodland part of the estate, where conditions were slightly more challenging.
First up were our U17 ladies, running over the 4.7k course. This saw yet another superb performance from Robyn Greenway finishing in a fantastic 13th place from 116 athletes. Next home was Hannah Reid, coming back from injury, ran a fantastic race to finish in 27th place, and bringing our team home was Louisa Howden who always works hard to deliver a good race to finish in 81st.
Six of our U13 girls were up next, around the 3.08k course. I had high hopes for these girls and they certainly delivered. First home was Chloe Phillips who got out to a great start, and worked hard to finish a incredible 15th place from 210 athletes. Our next two girls home were Alice Fearn 33rd and Tilly Carrotte 42nd. These girls certainly worked well together pushing each other all the way. Fine performances by both these girls with Alice improving hugely on last years position and Tilly finishing highly for low end age group. Our next three girls all new to the Northern scene, ran great races. Evie Griffiths, new to the squad and improving quickly finished in a very credible 82nd, Tabby Justice ran a fantastic race on her birthday finishing in 157th, birthday cake definitely earned. Ruby Clarke brought our girls home with a incredible sprint finish to place 199th. Our U13 girls team finished in 5th place from 22teams, one of our highest team placings we've seen as a club.
Next up over the 6.2k course we're our U17M.  Our 4 lads worked hard completing 1 small lap, followed by 1 large. First home in the quartet was Joel Cottingham, finishing in 84th place. George Gale followed him putting in a sprint finish to pip Caleb Stephenson to finish 98th & 100th. Will Parker brought our team home in 136th place.
One of the highlights of the day came in the next U13Boys race. We had five athletes in this 186 strong field. Getting a great start, and shortly off the leaders on the first lap was George Wilson. George worked hard during the second lap to move up the field and secure his impressive second place. Gaining a championship medal at the bottom of the age group is truly is a excellent performance from this young man. George was followed home by Alfie Burrell in 145th. Alfie had his own little battle with club mate Jack Wright, who finished close behind in 148th. Next in was Max Holness, who was probably one of the youngest boys in the race, having just turned 11. This didn't stop him delivering a great performance on his first Northers experience, finishing in 166th place. Oliver Parker brought our boys home, putting in another gutsy performance, finishing in 185th.
Another highlight of the day, came in the U15Girls 4.6k race. Ella Greenway flew off the start line, to put her in the lead group of the 182 athletes.  She maintained third position until the last corner of the last lap, where Holly Wheedal  (Vale Royal) made her move to take that third spot. But Ella wasn't going to let it go that easy, she dug deep and made a gutsy last push to move ahead and secure her third place medal. Her second championship medal in this age group, a magnificent achievement. Katelyn Howden was next to cross the line for the team, improving on her position in last years race, crossing the line in 109th. Next was Caitlyn Bryant, who's new to the Northern Championships, finished strong to place 164th.
Our last race of the day was from our 5 U15 Boys. Charlie Burrell was first in, running a good race, improving on last years place finishing in 61st place.  The ever improving Joe Carrotte was close on his heels, finishing 3 seconds behind in 68th place. Louie Knudsen was next home, running another good race to finish 122nd. Robin Smith and Ben Edwards brought the team home running a good race to finish in 152nd & 161st.
Well done to all who took part.  It really was a fantastic day to watch our club shine at the these championships. You all did you club, myself and your parents proud.
Thanks to all the Volunteers at Northern Athletics who delivered another superb championship.
Photos by Graham Stephenson
https://flickr.com/photos/lincsmotorsport/albums/72157712832589786
Photos by Steve Carrotte
https://flickr.com/photos/156893523@N04/sets/72157712848060462
Results
https://www.northernathletics.co.uk/2020-results-index/