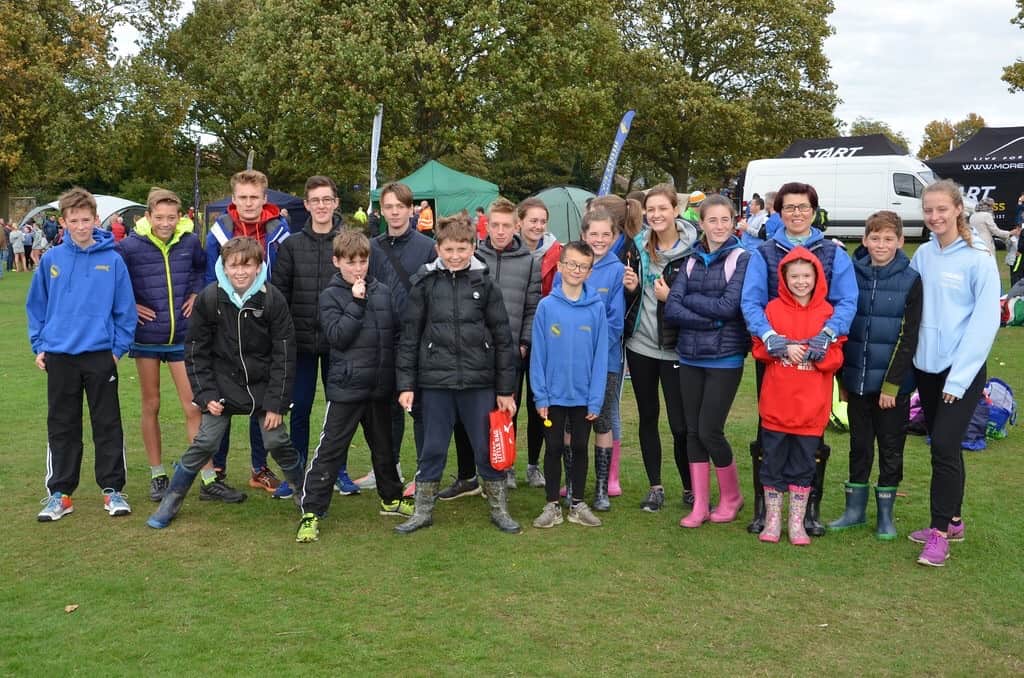 39 of our athletes travelled to Graves Park in Sheffield at the weekend to attend the Northern Cross-Country Relays. An impressive 13 teams ranging from u11's to u17's battled their way round the challenging parkland course. The sun shone and team spirits were high, as we looked forward to the day ahead, for this was the first time my squad and club members had done this event in a very long time.
The under 17 age groups opened the programme, with both the Men's and Womens races running 3 stages over the 2.3k course.
Our first of two teams in the U17 women was made up by 1st leg, Robyn Greenway (8.35) ,2nd Leg Hannah Reid (9.01) and 3rd leg Grace Sullivan (8.22), setting a fine example of how the relays should be run, finishing in an incredible 6th Place from 20 teams, with Grace clocking the 9th fastest time of all the legs. These girls were followed in by our second team, Amber Laycock 1st leg (11.13), Maddy Button 2nd Leg and a superb performance on the 3rd leg by Louisa Howden (9.26) bringing the team home in 19th place.
Two u17 Men's teams were out on the course at the same time as our women. The first team, Caleb Stephenson 1st leg (7.43) who got us off to a great start crossing the line in 17th position, Joel Cottingham 2nd Leg (7.40) bringing us in 16th, and a fantastic last leg performance by Lewis Phillips (7.15) who moved us into finishing a brilliant 8th position from 21 teams. Our second team, Dominic Cartwright 1st leg (8.52) Jack Pritchard (10.18) and Julian Saunt 3rd leg (9.19) all put in gutsy performances.
Our under 11's were up next, running 3 stages over  a 1.5k course. The girls set off first with Tabitha Justice on 1st leg (6.15) handing over to Holly Smith on 2nd leg (7.31) with Tilly Carrotte 3rd leg (5.46) finishing strongly Bringing the team home to finish 27th. The u11 Boys team started shortly after with Alexander Clarke on 1st leg (6.42) Oliver Parker on 2nd leg (6.30) and Max Holness on 3rd leg too bringing the team home in 27th place. This was the first taste of the larger events on the cross-country calendar for many of these youngsters, and they all performed incredibly well.
We lined up two teams on the 3 stage, 1.8k course of the U13 boys and U13 girls' races. The girls went off first and the 1st team consisted of Emily Davies (6.03) Isabella Cadey (6.50) and Chloe Phillips (6.10) who all put in strong performances to finish a very credible 14th place out of 40 teams , the 2nd team consisted Scarlett Dean (7.34) Alice Fearn (6.50) and Claudia Smith (7.01) First leg Scarlett finished in 47th place, with Alice improving 4 places to 43rd and Claudia finishing the last leg strongly in 35th position. Our U13 Boys 1st team set off hard by Robin Smith (6.06) handing over to Jack Wright on 2nd leg (6.38) with Ben Edwards on the final leg (6.17)these boys gelled well as a team and not much time difference separated them all.  The second team started with Harrison Young (7.31) crossing the line in 42nd to hand over to Charlie Cadey (7.45) who improved to 39th on leg two, handing over to Alfie Burrell (6.44) who ran a fine last leg to finish 35th.
Katelyn Howden (8.30) started our U15 girls' team well on the 2k course handing over to Charlotte Davies (8.53) who kept that position throughout her leg, to finally hand over to Ella Greenway (7.53) who set off real hard and improved their position by an incredible 10 places finishing the team in 13th place. Our last race of the day came from our U15 Boys, we again had two teams out in this 39-team race. The 1st team, saw Matthew Spendlove (7.35) on 1st leg, just coming back from injury, put in a fine performance handing over to George Gale (7.46) in 25th place, George fought hard and Improved on this by two places to hand over to our last leg Charlie Burrell ( 7.30) who finished strongly bringing the team home to a credible 18th place. Our 2nd team who all put in fine performances, consisted of Louie Knudsen (8.17) on 1st leg, William Parker (9.18) on 2nd leg, and 3rd leg bringing the team home in 34 place was Joe Carrotte (8.31).
Well done to all who competed, we had a thoroughly enjoyable day, with some outstanding individual and team performances, making it a memorable day for all. Now we have a little experience of how the relays work, we are all excited and ready for the National Cross-Country relays in Mansfield on 3rd November, where we are hoping for a couple of top 15 places and maybe even a top 10.
Jo Evans
Photo's By Steve Carrotte
https://www.flickr.com/photos/156893523@N04/
Photo's by Graham Stephenson
https://www.flickr.com/photos/lincsmotorsport/albums/72157702633262005
Results