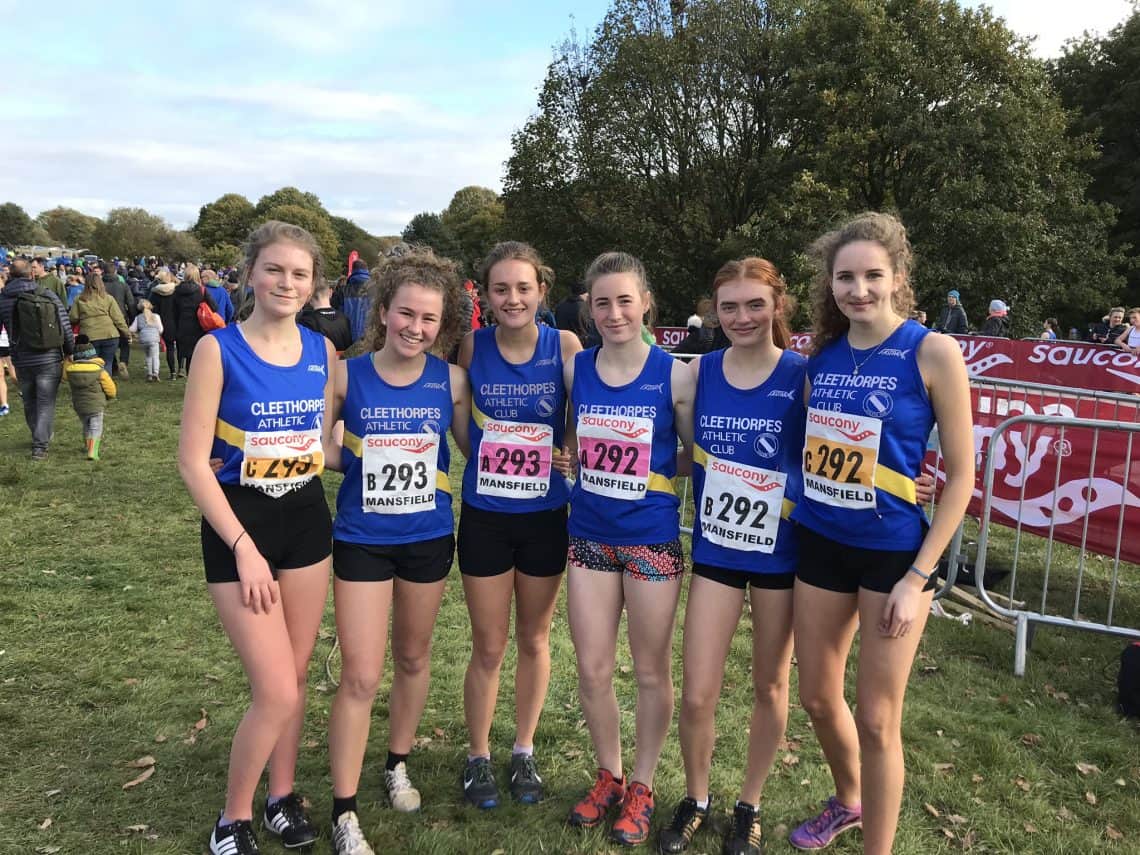 Another early start saw 31 of our athletes along with their parents and supporters travel to Mansfield to compete in the Annual National Cross Country Relays.
The course at Berry Hill was set out in a mixture of parkland, woods with a few tricky hills and some great viewing points for the spectators.
With almost 3000 competitors its sure was going to be a busy day of competition. First up was our U17 Women competing against 58 other teams over the 2.5K course. We had two teams in this race. Our "A" team made up of Robyn Greenway on 1st leg (9.21) Hannah Reid on 2nd (9.38) and Grace Sullivan on last leg (9.11) had been given a target position of 10th on the back of their fantastic 6th team placing at the Northern relays in October. All three girls really dug deep and fought right till the last stride, gaining that sought after 10th Position. This really was a fantastic achievement, especially as they are all bottom end age group. Our "B" team Louisa Howden (9.58) Devon Low (10.25) and Amber Laycock (12.36) also put in superb performances to finish 11th "B" team.
Next up was our U13 Boys and Girls who ran a 2k course. The boys went first, our "A" team opened with Ben Edwards (8.16) running a good leg passing to Jack Wright in 94th place, Jack Then ran a superb leg (8.13) handing over to Robin Smith (8.07) in 77th position where he brought the team home to 61st place. Our "B" team saw a fine run from Alfie Burrell (8.36) pass to Charley Cadey (9.51) and Alexander Clarke (9.53) both of whom ran fine races as they don't usually train for endurance events.
With two teams again in the U13 Girls Race. Our "A" team was set off to a great start by Chloe Phillips (7.46) in 26th place, she was followed by Isabell Cadey (8.26) who passed to Emily Davies in 35th place, Emily then stuck to the task and ran well to bring the girls home in 24th place, a very respectable position from the 88 teams who completed the 3 stages. Our "B" team made up of Alice Fearn (8.19) starting the race in a great time and passing to Scarlett Dean (9.57) with Emily Blyth (8.57) finishing strongly in 78th place.
Now to a 3k course where two U17 men's teams battled hard for their positions in the 75 team field of athletes. Our "A" team was again set off to a fine Start by Caleb Stephenson (9.56)passing to Joel Cottingham in 57th place, Joel then ran a superb leg to bring the team through into 40th place, and on last leg was Lewis Phillips who replicated his strong performance from Northern's to bring the team home in a very respectable 31st place. Not forgetting Our "B" team Dominic Cartwright (11.44) Julian Saunt (11.45) and last leg Freddie Fearn ( 11.00) who all put in good runs finish 16th B team.
Due to other commitments unfortunately our U15 Girls team was down to one athlete, Charlotte Davies (8.12) who ran a great race and enjoyed the experience and course.
Lastly, we had two teams in the U15 boys 2k race. After a real tussle at the start of the race and with quite a few fallers, Our "A" team started By Mathew Spendlove (7.01) stood strong and flew off the start line to bring the team through in 65th place, he passed to George Gale (7.06) who ran a really superb race to pass to Charlie Burrell (7.02) in 58th place, Charlie then battled hard to finally bring the team home to a respectable 44th place from 93 teams. Not forgetting our "B" team which was started by Joe Carrotte (7.48)who managed to stay on his feet during the tussle, despite being barged and pushed numerous times, passing to William Parker (8.52) who put in another gutsy performance to pass to the much improved Daniel Payling who brought the team home to finish our day of competing.
A very enjoyable day had by all, some great running and some excellent team results. A big Thank you to all the parents who helped me on the day, from getting the athletes there, putting up the tent, taking the team photos and helping me with the management of the teams. Well done to all the athletes, you did your club and coaches proud once again!!
Jo Evans
Results http://www.englishcrosscountry.co.uk/relays/2018-xc-relays-results-all-age-groups/
Photos from Graham Stephenson https://www.flickr.com/photos/lincsmotorsport/albums/72157675220471368
Photos from Steve Carrotte https://www.flickr.com/photos/156893523@N04/albums/72157703171019665